The brains behind the operation that brings together Sensor home alarm devices.
Battery Backup
48-hour battery backup for power outages at home (3.V dc Battery)
Wireless
Wireless Connection with up to 24 Sensor devices
Power off warning
Green flashing warning light shows mains supply is off
Low Power Consumption
NOT a home Wi-Fi device.
Power
240V AC 50Hz mains power
Privacy
Connected to Sensor smart devices only with no sound or video recording
Please never detach, tamper or remove the hub device, to ensure that it remains connected for occupant's safety.
Introducing the Sensor Hub panel
MODEL 217E-C001
With the Sensor Hub, you can connect all your lifesaving and property care devices in one central location. This allows remote testing of all your Sensor smoke alarms, Sensor Gas Detectors, and Sensor Water leak devices and shut-off valves.
This lessens any interruptions to the residents of the house while allowing Property and Asset Managers to test safety devices, above the minimum legal standards. The Sensor Hub's rechargeable backup battery allows it to continue operating even in the event of a power outage for up to 48 hours.
Additionally, because it runs autonomously and has a cellular connection of its own, it is not dependent on the tenant's Wi-Fi connection.
Why is our Sensor Hub a life saver?
The status of connected lifesaving & property care devices are checked every 5 minutes

Alerts Property & Asset Managers if there is a problem with an installed Sensor device

A self-healing network after any extended power outage

Connects up to 24 Sensor devices

Facilitates remote alarm testing, no site visit required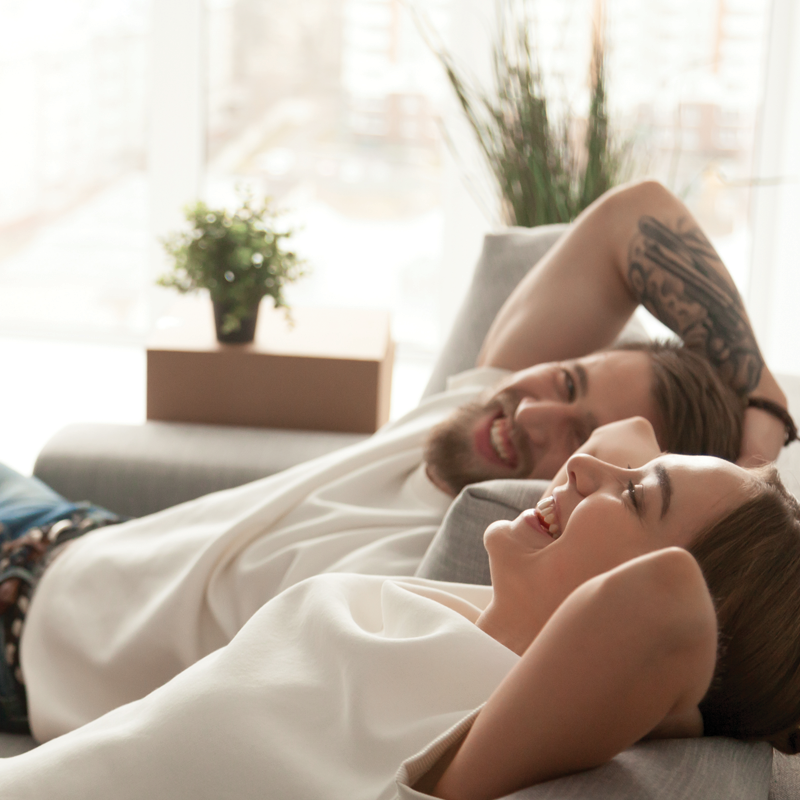 Hub Specifications
| Specifications | |
| --- | --- |
| Dimensions | (129 x 99 x 35) mm |
| Weight | 300g |
| Operating Voltage | AC(100 – 260)V/50/60Hz |
| Mains Supply Curent Limit | 0.18A @ AC 230 V, 0.3 A @ 115V |
| Mains Supply Fuse | 1A / AC 250 V |
| Mains Supply Fault threshold voltage | < AC 60 V |
| Power Supply | 2A @DC 5 V |
| Quiescent current (Imin) | 80m A @ DC 5 V |
| Standby battery maximum capacity (DC 3.7 V) | 5.0 AH |
| Wireless radio interconnection operating frequencies | 433 MHz |
| Number of connected devices | 24 |
FAQ's
Can I connect any device to the Sensor Hub?
No, only Sensor devices can be connected to a Sensor Hub.
What does the solid blue light on the face of the Sensor Hub mean?
The solid blue light means the Hub is connected to its own cellular network. If the blue light is flashing the Hub is looking for a cellular network and is not connected.
If the Hub is disconnected, will my installed Sensor devices still operate?
YES. All devices will alert you for their intended purpose, even if the Sensor Hub is disconnected. Sensor smoke alarms are CSIRO approved as independent smoke alarms and comply with Australian standard 3786:2014 However in this instance there will be no external communications to Property / Asset Managers or the home occupant, as the hub is the gateway for external communications
Why is the green light flashing on the Sensor Hub?
The green light flashes if the mains power to the Hub has been disconnected. In this instance your power circuit may need attention or there is no power to the property.
Do Sensor devices record any voice or video when installed in a property?
Never. Sensor devices are installed to help save lives of home occupants and minimise property damage.
Can I buy Sensor devices for my home I live in?
Not currently. Sensor is currently only sold to Trades suppliers and Customers who service the Property /Asset Management Sectors. We expect we will have a direct consumer offering in 2025.
Smart Home technology meets property management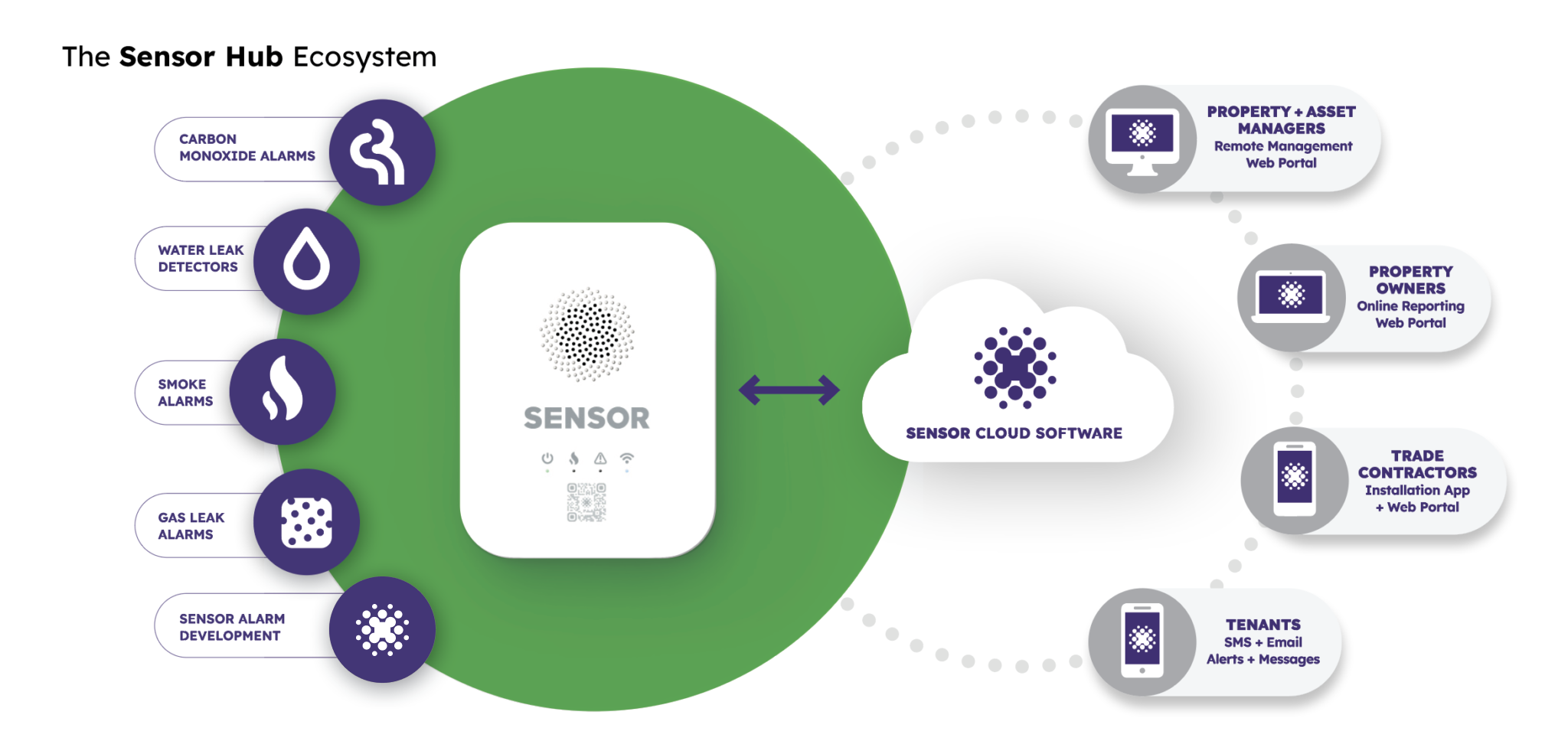 Water Leak Detector: Avoid water damage to your properties with a connected device that boasts a 5 year lithium battery.
Sensor Smoke Alarm: It's interconnect and CSIRO approved with a 10 year lithium battery back up.
Gas Leak Alarm: Poisonous gas and carbon monoxide can be deadly - Alert early and notify to save lives.
Sensor Alarm Development: Sensor is continuously working on new products that integrated into the system.
The Sensor Hub: The 'brains' behind the operation that brings together all the alarm devices.
Sensor Cloud Software: This is 'Mission Control' for your compliance and audit that is managed by exception.
TENANTS: Sensor makes safer places to live, with less intrusions for tenants and their families.
TRADE CONTRACTORS: Free access to the Sensor installation App and Web portal for job information, integrated invoicing and on the spot technical support and training.
PROPERTY OWNERS: The Sensor web portal that's populated with automated compliance and connection documents.
PROPERTY + ASSET MANAGERS: You are in control with automated remote testing, audit trails and line of sight to connected devices
Sensor lifesaving & property care devices