Early water leak detection prevents extensive property damage
Phone Alerts
Instant notifications when water pooling or flood water is detected
Wireless connectivity
Connect up to 24 Water Leak detectors to a single Sensor Hub
Always-on protection
Continuously active, providing immediate alerts when needed
Long-lasting Battery
A 5-year lithium battery lifespan with no need for mains power
Tamper Alert Motion Detection
Property Manager is alerted if the device is tampered with or moved
Compact Design
Designed to fit seamlessly under most water devices
PLEASE DO NOT MOVE WATER LEAK DETECTORS AS PROPERTY INSURANCE REQUIRES DEVICES TO BE IN POSITION
Introducing the Sensor Water Leak detector
SERIES 217E-W
The Sensor Water Leak Detector provides advanced property protection for owners and managers, minimising the costly and inconvenient impact of water leaks in residential and commercial properties worldwide.
Connect the detectors easily to the Sensor Hub using QR codes, enabling installation throughout the property. With alerts for occupants and managers upon detecting a water leak, Sensor offers optimal risk mitigation.
Additionally, the upcoming Sensor Water Shut-off valve*, when installed and connected to the Sensor Hub, allows for immediate water shut-off upon detecting a leak, notifying occupants and managers for prompt action and reducing the risk of major damage. The Sensor Water Leak Detector and Shut-off valve revolutionise property protection and insurance.
* IN DEVELOPMENT
Detecting water, before water damages
Some common places a Sensor Water Leak Detector can protect.
Kitchens: Install under sinks, dishwashers, or refrigerators with water lines to detect any leaks that may occur.

Bathrooms: Position near toilets, sinks, showers, or bathtubs to quickly detect and prevent water damage from plumbing issues or leaks.

Laundry: Place under washing machines, utility sinks, or any plumbing connections to prevent potential water damage caused by malfunctioning appliances or pipe leaks.

Utility rooms: Use near water-related equipment such as water filtration systems, water heaters, or boilers to monitor for any leaks or failures.

Crawl spaces: Install in crawl spaces where pipes or plumbing connections may be located to identify leaks or excessive moisture that can lead to damage.

Basements: Place near water heaters, sump pumps, or plumbing connections in the basement to catch any leaks or water accumulation.

HVAC systems: Position air conditioning units, humidifiers, or condensation lines to detect leaks or water buildup caused by system malfunctions.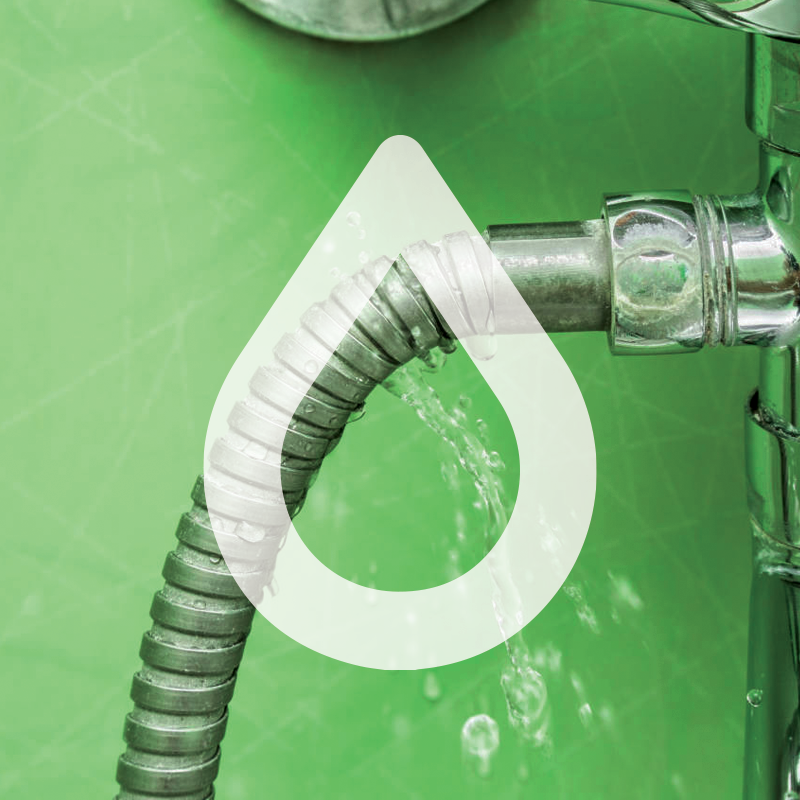 The always-on safety and compliance ecosystem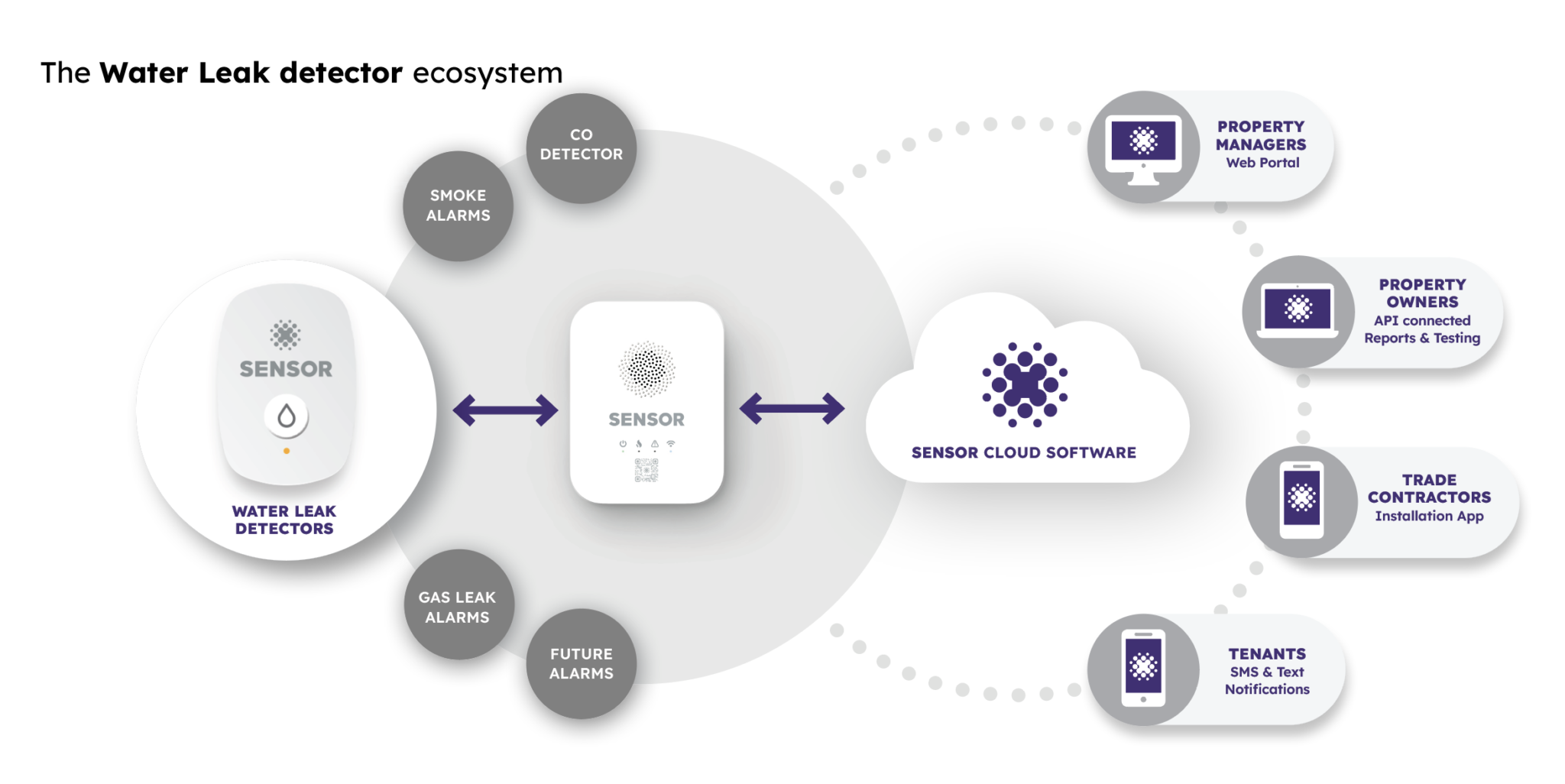 Water Leak Detector: Avoid water damage to your properties with a connected device that boasts a 5 year lithium battery.
The Sensor Hub: The 'brains' behind the operation that brings together all the alarm devices.
Sensor Cloud Software: This is 'Mission Control' for your compliance and audit that is managed by exception.
TENANTS: Sensor makes safer places to live, with less intrusions for tenants and their families.
TRADE CONTRACTORS: Free access to the Sensor installation App and Web portal for job information, integrated invoicing and on the spot technical support and training.
PROPERTY OWNERS: The Sensor web portal that's populated with automated compliance and connection documents
PROPERTY + ASSET MANAGERS: You are in control with automated remote testing, audit trails and line of sight to connected devices
Sensor lifesaving & property care devices